Structured Cabling
Telephone and IT Cabling & Wiring
Ensure that Your Business Communications Continue Uninterrupted as You Transition to a New Facility or Take on an Expansion Project.
From end to end and start to finish, HRCT's Structured Cabling services allow you to take full advantage of the latest advancements in technology – including category 5E, category 6, plenum, and non-plenum, fiber optic, as well as hyper speed.
Performed by our own experienced HRCT technicians, you gain the peace of mind that comes from knowing your MACs (Moves, Adds, and Changes) are performed with the greatest attention to detail and an in-depth understanding of the work we perform.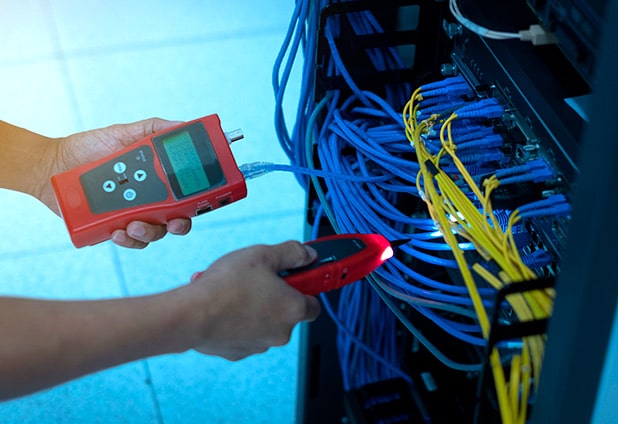 What's more, HRCT tests and certifies to city and state code for cabling, so you know you're also in compliance with regulatory requirements.
When Was The Last Time You Had Someone Check Your Network Cabling?
Are your computers running slowly? The problem doesn't always trace back to the computers themselves.
Sometimes, it's your network
The HRCT cable installation experts are fully licensed and qualified to tackle any data or telephone cabling assessment, installation, or audio/visual cable install.
Your devices can communicate only as well as the cabling that links them will allow. Broken cabling and bad connections lower the speed of your network or stop the flow of data altogether.
We Do More Than Network Cabling Assessments!

Network Cabling Designs (for new builds)



Cabling Retrofits (for office renos and facility expansions)
Get It Right from the Beginning – Call Qualified Professionals
"I can do the low voltage cabling for you."
Maybe you've heard this before from a well-meaning electrician in a renovation or new build scenario.
Here's the truth about that situation.
Electrical contractors (with a few exceptions) are not properly trained and qualified for low voltage cabling.
Why?
Although high voltage cables and low voltage cables are essentially wires, the installation of the two types of cabling couldn't be more different.
Electrical contractors that aren't working with low voltage cabling (and especially fiber optic cabling) tend to treat these delicate cables and sensitive connectors in the same rough manner that they employ in pulling the high voltage cabling. While the high voltage cabling can handle the shoving and tugging around corners and through holes, the fine copper wires in low voltage cabling and the tiny thread of glass/plastic inside fiber-optic lines are likely to break and cause problems for you.
See why having IT professionals that are licensed for low voltage cabling is important?
We'd be happy to have a conversation with you about the problems your network is facing or the new cabling project you have coming up. Give us a call.