Fiber Optic Services
What is fiber optics?
Fiber optics are strands of very fine optic glass that can carry digital information quickly, over long distances. Fiber optics is used primarily for enterprise level data networks, cable TV and internet services.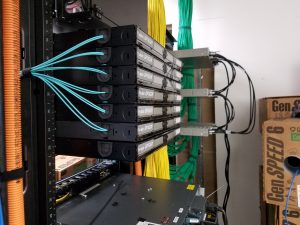 Why use fiber optics?
There are many advantages to using fiber optics over traditional copper wiring:
Fiber optics carry at a higher capacity over longer distances. This means more phone lines, channels and information can be carried through a smaller cable.
Fiber optics provide a better signal – There is less degradation in fiber optics meaning less loss of signal.
Fiber optic cable is not susceptible to electrical or RF signal interference.
Fiber optic cable has an extremely longer service life.
Fiber optics are extremely less prone to hacking or signal theft.
Though, in general, fiber optics can be more expensive than copper wiring, it provides superior service, bandwidth, durability and security.
What is fusion splicing?
Fusion splicing is the act of melding/ welding fiber optic cables together. To join the fibers, heat is needed. The goal is to connect the fibers so that no light gets scattered or reflected back, providing very minimal or zero loss of signal as compared to connectorization. Click here to learn more about fiber optic fusion splicing.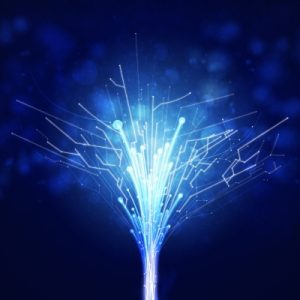 How does fusion splicing work?
The fiber must be stripped. There is a protective polymer coating around the optical fiber which needs to be stripped.
The fiber must be cleaned.
The fiber is cleaved using a score and break method. The end-face of the fiber must be perfectly flat and as close to a 90-degree angle as possible. The better the cleave tool used to score and break the fiber, the better the result.
The fibers are spliced with a fusion splicer. The two cleaved ends are aligned in the splicer and a high temperature electric arc is introduced, melting the fibers and joining them together into one continuous strand.
The fibers are given a protective coating. Either the fibers will be recoated or covered with a heat shrinkable splicing tube with a strength membrane.
Hampton Roads Communication Technologies (HRCT) provides IT, business telephone, and cabling services, including fiber optic services, throughout the Hampton Roads Virginia cities of Virginia Beach, Chesapeake, Norfolk, Portsmouth, Suffolk, Newport News and Hampton, north into Williamsburg and south into the Outer Banks of North Carolina. HRCT keeps your company connected.
---
Sources: computer.howstuffworks.com, wikipedia.org
Bottom photo courtesy of FreeDigitalPhotos.net by Mr Lightman