Premise Based Phone Systems for Businesses
Premise-based business phone systems do not require an internet connection like their hosted/ cloud-based phone system counterparts.
All components of a premise-based phone system are located at your business where it is maintained either by an in-house IT staff or one that is outsourced. With a premise-based telephone system, your company has complete access and full control of its telephone operations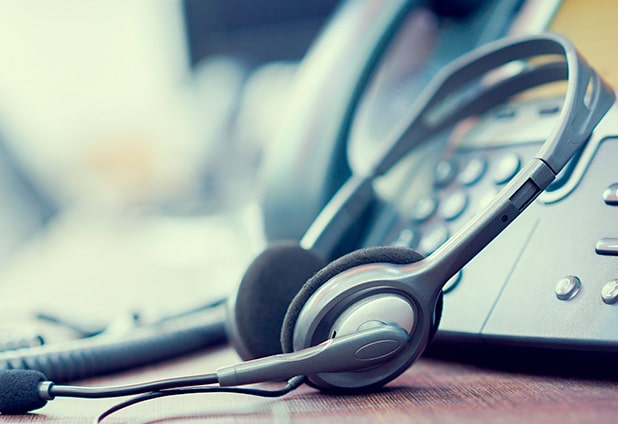 Premise-based phone systems have the option to run over the internet with VoIP (voice over internet protocol). VoIP on-premise phones can have the same features as hosted phones:






The HRCT Team Provides Phone Systems for Business with On-Premise Telephone Solutions
Free Consultation.
Keep Your Same Telephone Numbers.
Top vendors such as Samsung, Avaya, and Phonesuite.
Local HRCT Support.
Advantages of a Premise-based Phone System:
Premise-based phone systems are ideal for large enterprise businesses or organizations.
Premise-based phone systems are highly customizable.
If you have an in-house tech team, they can easily perform updates and maintenance without paying fees for others to do it for you.
You have increased control over installation and operation.
Premise-based vs. Hosted/ Cloud-based Business Phone Systems
When choosing between business phone systems, it's important to ask yourself the following questions:
How many employees do I have?
Does my business already have an IT staff onsite?
What features am I looking for in a phone system?
Am I willing to spend more money for initial equipment and installation, or am I looking to spend money over time in monthly payments?
Answering these questions will help you to determine which type of phone system will best suit your company's needs and budget.
There are many pros and cons when choosing between cloud-based phone systems and premise-based phone systems. Here are some of the advantages and disadvantages for each:
Premise-based Phone System
Pros:
Your business won't be paying monthly fees to operate your phone system like with a cloud-based phone system. You'll never have to worry about those monthly operating costs increasing as hosting fees rise.
Your business has complete control over your phone system and can switch features and solutions quickly.
Your business will be familiar with your phone system's capabilities.
The phone system can be updated through internet downloads at no charge. Updating may offer more capabilities than when the phone was initially installed.
Options aren't as limited as they may seem with premise-based phone systems. Your business can still choose between VoIP, digital and analog technology. While premise-based phone systems do not require an internet connection, you can still use VoIP (Voice Over Internet Protocol) technology. IP Phones using VoIP technology can be incorporated into your premise-based system and internet through SIP trunking.
Cons:
The initial cost of equipment and setup is more expensive.
Your business will be responsible for maintaining and updating your phone system, and so if something goes down or isn't working properly, your company will be responsible to fix it. You do have the option to outsource maintenance for an additional cost; read about managed services for business phones here.
Cloud-based (Hosted) Phone System
Pros:
A cloud-based phone system is cheaper to install.
Your business does not have to worry about maintenance as updates will come from a third party company.
The hosting company will provide backups for on the rare occasion that the phone system goes down.
Your business can select different features as the company grows and changes.
A cloud-based phone system can be easily scaled, adding and deleting lines as you go.
Cons:
Your business pays a monthly fee to a third-party company to host the phone system. Your company has no control over whether this fee will increase over time.
Your business may pay additional fees for certain features.
Cloud-based phone systems require an internet connection and operate over the internet so your business will need to make sure it has the required internet bandwidth.
Vendors
HRCT offers industry-leading premise-based and cloud-based business phone systems from leading manufacturers such as Samsung, Avaya, and Phonesuite for Hospitality. Talk to one of our business phone specialists and discuss what type of business phone system is best for your business or organization's needs.
HRCT can help you decide which type of business phone system suits your company's needs, goals, and budget. We can help you improve or repair your existing system, or upgrade your business to a new, state-of-the-art telephone system. We offer help desk support and 24-hour emergency service for our customers. Need help with maintenance? HRCT also offers managed services contracts for telephone systems.