IT Support
HRCT provides complete IT Support solutions including Managed Services, repair and new installation for all of your business computer and IT needs. From Cloud Computing to Virtualization to Virus Protection and Data Backup, your business data services need to operate reliably and cost-effectively.
What Can I Expect From HRCT IT Support?
HRCT's skilled staff possesses high-level expertise in computer and IT hardware, software, and cloud services and is equipped to help your company in every aspect of IT Support for your office's data network needs.
At HRCT, we provide your business or organization with more than just computer and IT solutions and security. We have innovative solutions for your communication needs.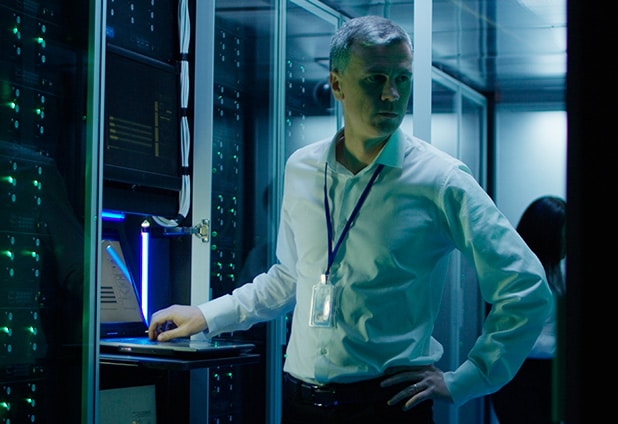 We offer you peace of mind that your computer and IT systems are managed by some of the most experienced technicians in the region. HRCT has serviced numerous companies throughout Norfolk, Virginia Beach, Portsmouth, the Outer Banks of North Carolina, and the Hampton Roads community.
HRCT provides:
Complete IT Solutions
24/7 Network IT Support
Customized Network Service and Repair
Managed Services
What Other IT Services Does HRCT Offer?
HRCT understands that in today's technological, faced-paced world, you need your computer and IT systems running at peak performance. Your systems need to be protected, backed up in case of cyber threats or natural disasters. Everyday power surges can threaten the integrity of your data. How well protected are your hardware and software?
We at Hampton Roads Communication Technologies (HRCT) are also able and willing to consult with you and give the best possible advice regarding your new purchase of a data circuit and provide assistance keeping it running if anything should go wrong. Always trust in knowing you have a partner you can count on for all your business data connectivity needs.
Managed Services
With Managed Services, HRCT offers the services of an IT manager without the cost of a full-time employee. HRCT provides ongoing responsibility for monitoring, managing, and/or problem resolution for selected IT systems and functions on your behalf. Services are customized for the specific needs of the business and can include:
Patch Management
Guaranteed Response Time
Fixed Price Projects
Preventive Maintenance Visits
Network Documentation
Check Backup Status
E-mail Support
Setup of New Users
Disaster Recovery Planning

Data Security:
We offer protection of your business computer equipment. If you need sound virus protection, anti-hacking measures, and protection from other Internet hazards, we can provide them.
Data Backup:
Regular backup schedules of your sensitive information helps keep your business assets safe and allows you to manage your company more effectively.

E-Mail Services:
Set up company e-mail for off-site access, provide employees with enhanced features, and protect inboxes from SPAM easily.

Video and Internet Conferencing:
Hold meetings with anyone, anywhere in the world, through clear video conferencing over the Internet.
For more information about how HRCT can provide your Virginia business with complete IT Support, click here for details about HRCT's Managed Services.
Hampton Roads Communication Technologies (HRCT) provides quality business telecommunications solutions, like Computer and IT Solutions to companies and organizations throughout the United States, Mid-Atlantic Region, Hampton Roads Virginia, north into Williamsburg, and south into the Outer Banks of North Carolina.