Reliable Business Technology Services for Over 30 Years
HRCT is a professional business telephone, computer, and IT company with over 30 years of serving customers throughout the United States. We deliver strategic communications infrastructure and reliable IT services for businesses across a wide range of size and industries.
Our Clients have experienced 30 Years of Success with HRCT!
Delivering Strategic Communications Infrastructure and
Reliable IT Services for Over 30 Years
For the past 30 plus years, HRCT has served companies across the USA, especially the Mid-Atlantic Region, Hampton Roads Virginia, north into Williamsburg and south into the Outer Banks of North Carolina.
Our main focus is on strategic business communications infrastructure and reliable IT services, using the most up-to-date technology to keep our clients connected to their customers. HRCT clients are more productive, so they get a better return-on-investment from their communication systems.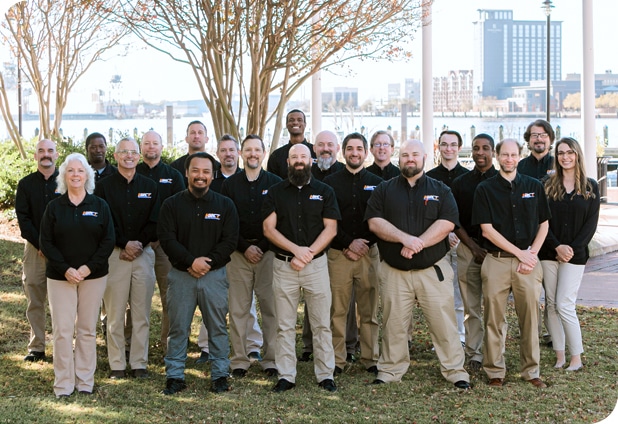 HRCT provides quality products and services at affordable prices. We work with businesses of all sizes, including Small and Mid-Sized Business Solutions, Corporate Enterprise Solutions, and Government Work. Our services include:
Business IT and Computer Services, Installations, Repair, and Support:
Cloud Computing
Managed Services
Virtualization
Hosting
VoIP: Hosted
General Network Repair and Troubleshooting
Network Design & Implementation
Virus Protection & Removal
Email Solutions & SPAM Filtering
Networking Security
Data Backup
Wiring & Cabling
Business Telephone Services, Installations, Repair, and Support:
Hosted VoIP – Hosted Voice and Telephone
Local & Long Distance Services
Unified Communication
Wireless Voice & Data
Managed Services
Wiring & Cabling
Managed Services
Business Telephone Service Agreements
Business Computer and IT Service Agreements
Telephone & IT Cabling and Wiring
Installation of CAT5e, CAT6, and fiber optic LAN cable
HRCT Customer Support includes:
Help Desk: Support ASAP
24/7 Emergency Service
Remote Support
Live Chat
Customer Support Portal
Online Tutorials
30 Minute Response Time for Support
Whether you need service or repair, new equipment, Help Desk Support, or Managed Services, you can depend on HRCT to have the right solution for your business. We are here for all your business communication needs. While you're busy managing and running your company, you can have peace of mind that HRCT will protect your data, reduce your security risks, improve your productivity, manage your systems and reduce your costs.
HRCT Partners with the Industry's Best Providers Business Communication Products and Services
Computer, IT, Data Protection, WiFi, Telephone, Security Surveillance, Security Cameras and more!