Server Installation and Replacement
Is your current server not performing as well as it should? Are users complaining about how long operations take? Maybe it's time to replace your server.
Thinking About Replacing Your Server but Need Some Advice? Server Installation and Replacement Can Be Complex. We Can Help.
HRCT provides server installation and replacement services to make sure you have an up-to-date server that is efficient and meets your business's growing needs. We have over 29 years of experience helping our customers with their business communications needs.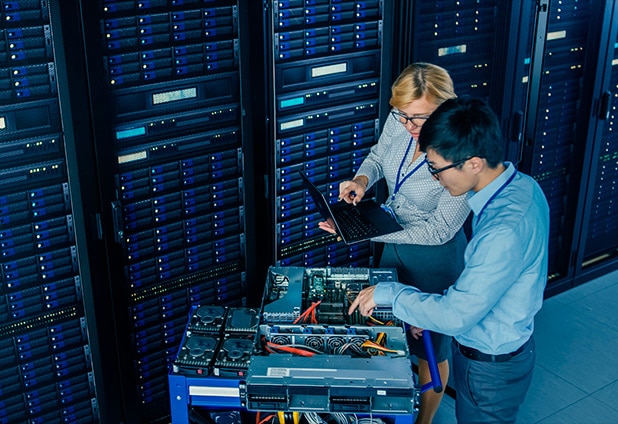 Server Software
Is your operating system out of date or beyond support? We will upgrade or install new software to keep your servers functioning at their highest level.

Server Hardware
Is your server hardware at the end of its life? Does your line of business software application need faster hardware? We install server hardware from leading computer companies to make sure you have reliable technology that will last. From rack, tower and converged platforms, we can help you choose the server hardware that will work best for your business computer and IT needs.

Cloud Migration
Are you unsure if you even still need a server? Are you tired of supporting and maintaining server hardware onsite? We can migrate your applications to the cloud or even virtualize your servers in the cloud.

Server Virtualization
Are you looking for creative ways to be more efficient with the servers you already own? Have you heard about virtualization and want to know more? Server virtualization consolidates physical servers to run in virtual machines to optimize the use of hardware. Decrease your server rack footprint and lower energy bills with server consolidation by way of virtualization.
---
Why Should You Choose HRCT for Your Server Installation and Replacement Needs?
HRCT engineers are business computer and IT experts, with over 29 years of experience helping companies throughout the United States, Mid-Atlantic Region, Hampton Roads Virginia, north into Williamsburg and south into the Outer Banks of North Carolina. When you need someone to evaluate, consult on, and replace your server, HRCT is ready to help.