Hosted and VoIP Phone Systems. What Internet-based Phone System is Right for Your Company?
Whether you choose a hosted phone system or opt for a VoIP setup, internet-based phone systems allow you to provide a seamless telephone experience for your employees, vendors, partners, and customers. HRCT will help you survey your telephone needs and consult regarding the right telephones, softphone apps, and background technology needed to give your business the telephone options and functionality you require.
The Benefits of Hosted Telephone Systems
HRCT will host your business phone system and bring your communications to the next level.
Affordable.
Free Consultation.
Never Get Stuck in an Obsolete System Again.
Lifetime Warranty on Telephones with Plan.
Keep Your Same Telephone Numbers.
Local HRCT Support.
24/7 Emergency Service.
Low Upfront Cost.
Low Monthly Plans.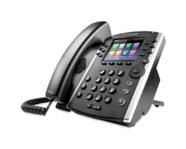 HRCT Hosted Telephone Polycom VVX Series
A hosted PBX phone system utilizes IP, the cloud-based technology, over your existing internet connection to provide telephone system functionality and making and receiving calls. Voice and data hosting, also referred to as VoIP or Voice Over Internet Protocol, is essentially phone and data hosting over the internet. Instead of using an on-premise phone system, which requires hefty hardware and on-premise maintenance, a business pays a monthly amount to a voice and data hosting company to provide features, updates, and maintenance for a business phone system over the internet.

 A hosted system has many features, including:
Basic Line Hunting
Call Logs
Call Hold/Park
Caller ID
Call Transfer
Speed Calling
Do Not Disturb
Call Screening
Call Forwarding
Account Codes
Voicemail to Email
Outlook
Cell Phone Integration
CommPortal
Click to Call
Voicemail
Find Me Follow Me
Music on Hold
Benefits of VoIP
HRCT can help your company save money, and take your business phone system online by installing a VoIP business phone system.
Saving monthly on your phone bill. In most cases, savings could be up to 50%.
Does your business have multiple offices? A VoIP business phone system can seamlessly connect all your offices as one. No need to manage separate systems or purchase a system at each location! Intercom, transferring, paging, and voicemail between locations would be a touch of a button.
Does your business have any remote employees? HRCT can simply program a VoIP telephone connected back into your main system. Never lose communications again, and they will get all the features of the telephone system.
Have Multiple Offices or Remote Employees?
A VoIP business phone system can seamlessly connect all your offices, eliminating the need to have separate systems at each location. Also, give a VoIP phone to a remote employee, and they will have all the features of the phone system like they were right in the office next to you.