For many years, the cloud was being reported as the next great thing that could completely transform how businesses operate. In 2021, the conversations turned into action.
The COVID-19 pandemic pushed businesses and organizations towards the cloud, even those that were not ready. There was no other option – move to the cloud or suffer the consequences. Many businesses and organizations accelerated their cloud journey to support new ways of working and build flexibility for the future. While these businesses and organizations have made significant progress, the journey is nowhere near over.
Moving to the cloud is not a one-and-done type of event. Moving to the cloud is a commitment. Gartner predicts that public IT spending within organizations will exceed 45% in 2026, up from less than 17% in 2021.
If you're considering moving to the cloud, chances are you have several fears. You are not alone. Most business and organizational leaders have the wrong mindset when it comes to moving to the cloud. One of the problems is there's so much old thinking. There is a real fear that the cloud is just a wide-open field that has not been secured. However, the reality is, with the right stringency, the cloud can actually be more secure than your on-premise solutions. The cloud is much more than another organization's data center.
Clouds can be private (limited to your organization) or public (shared by multiple organizations). Most organizations use a hybrid cloud model that involves more than one type of cloud to store and access data. When it comes to moving to the cloud, what's fact and what's fiction? Here are some of the most common myths we run into.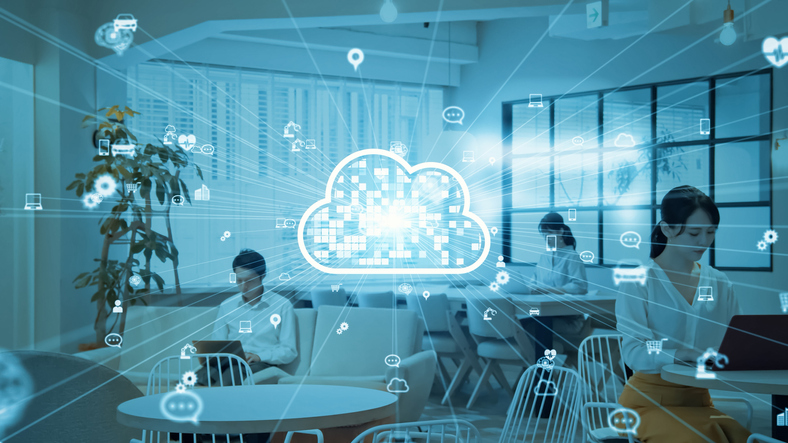 Myth 1: The Cloud Is Too Difficult to Secure
One of the biggest concerns that many leaders have when it comes to moving to the cloud is security. Cloud security myths are prevalent, in large part because of the history they are deep-rooted in. In the early days of the cloud, there were some difficulties securing the platform because it was new and not everyone understood the exposure and attack surfaces. Cloud services could be accessed from anywhere, meaning they could be attacked from anywhere.
Today, the cloud is more secure, and businesses and organizations can make the cloud even more secure than on-premises solutions due to the amount of spending that is invested in cloud security every year. Cloud services can use advanced security platforms and can be protected by proven cloud performance.
The answer to this is a zero-trust approach. Instead of a single security barrier protecting your data assets, a zero-trust approach means security checkpoints for your users and their tools. Systems will check and identify credentials, serving as a bodyguard that will only allow authorized individuals to enter. This means if a cybercriminal does gain access to one of your user's account credentials, the amount of havoc they can cause will be minimized by the user permissions and tools that particular login can access.
Myth 2: If Our Data Is in the Cloud, We Will Lose Control over Our Technology
IT is strategic and you will still have control over the technology that you are running in-house. By moving to the cloud, you actually gain access to more technology for less money. This move will ultimately allow your business or organization to do things it could not do before. You will still have total control over technology, but your IT department won't have to worry about constant updates.
When you move to the cloud, the time previously spent maintaining hardware and upgrading your applications to the latest versions will be significantly reduced—eliminating the frustrations that come with it. By moving to the cloud, your IT team will be able to direct more of their attention to initiatives that will advance the organization's technology, rather than being a maintenance shop. You will also have more time to spend improving day-to-day operations and launching better initiatives.
Myth 3: We Have to Move Everything to the Cloud at Once
When moving to the cloud, there is no all-or-nothing scenario. You do not have to move everything to the cloud at once; you can move to the cloud at a slow pace or you can decide to take the hybrid approach. In the early days of the cloud, many suggested that businesses and organizations move everything to the cloud at one time. However, this process is not something that has to take place in one day.
Most businesses and organizations do use the hybrid approach, moving one platform, like email, and letting things go from there. As more businesses and organizations move workloads to the cloud, the path for the next workload will be different, and the time it takes for cloud migration to be completed will vary.
Myth 4: Cybercriminals Will Have Easy Access to Our Data if It Is in the Cloud
When your data is in the cloud, it's yours and no one else's. This is a major fear of moving to the cloud among many businesses and organizations. Your IT team will manage access to your data, set up permissions and restrictions, and provide device access and options. Your business and organization will remain the sole owner of your data. All that will change is the physical location of servers. You will still have access to your data. You will be the one who decides how your data will be secured, how you want to access your data, what applications you want to use, and more.
You will be in control of your data.
You will know what's happening with your data.
Strong security measures will be in place to protect your data.
Myth 5: Moving to the Cloud Will Be Too Disruptive
Any type of migration or deployment can be disruptive for any business or organization. However, when you move to the cloud the right way, it will be no more disruptive than any other major upgrade or update. The right cloud services provider can create an effective strategy for your business or organization that will deploy your systems in a layered approach or all at once in a manner that will avoid disrupting your organization. Making the move from on-premise to the cloud will happen only when your organization is ready for new infrastructure.
Let HRCT Put Your Cloud Fears to Rest
Have you already migrated your business or organization to the cloud? Are you considering moving to the cloud now? What are your biggest fears? What aspect of the cloud are you not worried about?
If your cloud fears persist, the team at HRCT can set up a consultation and design a strategy that can alleviate your fears. We will review the best solutions for your business or organization, so you can focus on the bottom line. Contact us today to learn more about what your business or organization's journey to the cloud can look like.