Hosted/Cloud Telephony Services
In today's digital landscape, more and more organizations are finding it difficult to defend themselves for keeping a traditional phone line for their communications solutions. Considering how challenging it is to scale a traditional phone system to accommodate for growth, businesses are looking for a more dynamic solution that aligns with their current and future needs.
Cloud technology is advancing today's businesses by offering solutions that are more flexible, scalable, and affordable. Business communications, as a vital cornerstone for any organization, are also embracing this innovation. More and more service providers are offering hosted/cloud telephone solutions for businesses of all sizes.
With a hosted/cloud telephone service from HRCT, your business can finally get rid of the expensive telephone services that have been holding your budget hostage and replace them with solutions that have been designed to address your specific communications needs. By leveraging a reliable internet connection, you can secure the communication platform your business needs while eliminating unnecessary service costs.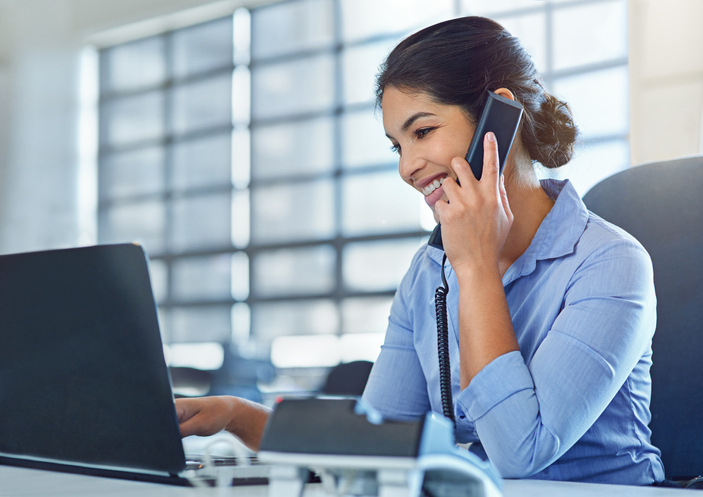 What Businesses Can Benefit from Hosted/Cloud Telephone Services from HRCT?
Today, many businesses are embracing hosted/cloud telephone services, some are transitioning to the services, and others are choosing to keep their traditional PBX phone system. Considering the size of a business, unique needs, and budget, every business has its own set of specific requirements. Here is a list of businesses that might find hosted/cloud telephone services a great fit:
Businesses that have varying communications needs
Businesses that do not have a full IT staff and want to avoid maintaining traditional phone equipment
Businesses that are operating from more than one location
Rapidly growing businesses with uncertain future capacity needs
Businesses that have remote workers
Businesses lacking the proper office space
Why Hosted/Cloud Telephone Services from HRCT?
Flexibility for your office and remote workforce
A reliable solution at a reduced cost
Maintained by professional, certified technicians
Cutting-edge data centers that will eliminate downtime
24x7x365 monitoring and support
Opportunity to improve the effectiveness and productivity of your team
Ensure your customers/clients/employees can communicate with you effortlessly
Say No More to Expensive Telephone Services
Many of today's telephone service providers will bundle a variety of services together to convince consumers that they can get more for their money. These bundles are not all valuable because your business might not use every service the package offers. With hosted/cloud telephone services from HRCT, you get exactly what you pay for – nothing more, nothing less. This helps you build a solution that will align with the unique needs of your business.
Add New Users, Extensions, and Phone Lines Whenever You Need Them
Traditional PBX phone systems are often difficult to work with. This is especially true for businesses that are experiencing remarkable growth. Every time a new user is added to your infrastructure, you also have to add a new phone line and a new extension. With a hosted/cloud telephone service, your telephony infrastructure becomes more powerful and you can easily add new users. You will not have to install new phone lines or make significant changes to your office every time a new user has to be added.
You Can Focus On Your Business and Not Your Phone Systems
Managing and maintaining your business's traditional phone system can be difficult, especially since you have to focus on other areas of your business, such as managing your daily business operations. Not every business has the staff on hand to care for your technology solutions, including a hosted/cloud telephone service. HRCT provides the care your business needs to ensure that you get the most out of your telephone system, all while maximizing uptime.
Convenient Features of Hosted/Cloud Phone Systems
To stay competitive and relevant, hosted/cloud telephone services focus on building features that help people communicate in a work environment. Choosing the right hosted/cloud telephone service for your business can help streamline processes and save your business resources. Below are some features of HRCT's Hosted/Cloud Telephone Services:
Voicemail to Email
This feature allows users to read, download, and listen to voice messages from any location using a computer, cellphone, or other devices that can be connected to the internet.
Auto Attendant
Let your clients and customers know how much you value them and their time by having a menu that guides them to the person or department they are looking for.
Call Forwarding
Call forwarding allows an incoming call to a selected destination under different conditions. Call forwarding will automatically forward phone calls that are not answered to another phone number without making the caller hang up and dial another number.
Call Analytics & Reporting
Get the most out of your cloud phone system from HRCT by collecting and analyzing call data. Get reports and understand your callers' behavior to improve how you interact with them.
Blocklist 
Blocks incoming and/or outgoing calls. Numbers that are on your blocklist will be blocked to call in and/or called. HRCT's hosted/cloud telephone services help you stop annoying or unwanted calls.
Call Transfer
Place callers on hold and transfer them to another number when necessary.
Wi-Fi Calling
Use your internet connection to make and receive calls.
Extensions
Gives employees or departments extensions.
Let HRCT Put Your Phone System in the Cloud
HRCT's Hosted/Cloud Telephone Service delivers enterprise-grade features along with advanced capabilities, delivering a solid, reliable, and affordable business communications solution. We help our clients determine the best communication solutions for their needs. We aim to help businesses transition to hosted/cloud telephone services that offer all the features and functionalities they need, along with additional benefits. The experts at HRCT can also help determine the right solution for your business, regardless of the size or your unique needs.
If you want to be confident that you have a technology partner you can trust to provide your team with the support they need to perform their roles in a timely fashion, HRCT can provide you with that confidence. Contact us today to see how your business can benefit from our hosted/cloud telephone services.
Special thanks to our friends at DataEcon in Dallas for their help.