What are Business Telephone Endpoints?
An endpoint means a device that lives outside of the company's network firewall. Endpoints include tablets, mobile phones, and laptops that allow the user to connect to the company's central network. The use of business telephone endpoints is increasing because of the mobility of today's workforce, the need for flexibility and the growth of telephony technology.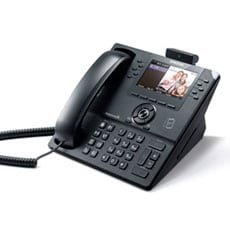 HRCT is your company's technology partner. Our educated and experienced team can help you understand how the technology of business telephone endpoints can help your company grow and stay connected. We can help you manage your communication systems and keep things running smoothly and secure.
IP Endpoints allow offices to use the internet to connect local employees, remote staff, and offices as if they were all together in the same office. Digital Desktop Endpoints deliver high-quality voice, advanced digital features and customizable keys for high-speed call processing. Wireless endpoints offer a cost-effective system that allows access to traditional system features yet mobile while in the office. HRCT can help you every step of the way from explaining the advantages of VoIP for businesses or choosing the right phone system for your business.
HRCT will work with you to determine your company's specific needs. We will recommend a business telephone endpoint solution that will keep your company connected with its mobile force while keeping your network secure.
 What Business Telephone Endpoints Does HRCT Offer?
IP Endpoints such as IP Desktop Phone and IP Softphones
Digital Desktop Endpoints
WiFi and Wireless Endpoints
Smartphone Apps
 Your Company's Business Telephone Endpoint Needs
Your HRCT team member will discuss your company's needs, so we can recommend the best solutions. One of the most important factors is how the endpoints are used.
Employee stays at desk most of the day – Desktop Digital Endpoint
Employee needs to be in different parts of the office building – WiFi and Wireless Endpoint
Employee travels to other locations or works from home – IP Endpoint
We take into consideration:
The number of employees
Cost
Features
Powering Options
Warranty
Service and Support
Standards for Compliance and Other Devices on the Network
A Greater Level of Efficiency for Your Company
Business telephone endpoints in today's office can help a business achieve a greater level of efficiency by utilizing and linking all aspects of the office. Just as the office workflow has evolved from paper and pen to computers, business telephones do much more than connect people for a conversation. Today, telephones communicate with the computer next to it. They can be wireless and can handle video conferencing all on their own.
HRCT can help evaluate your company's needs and decide which type of business telephone endpoint works best for your business model. We can help you evaluate your employees and how they can be more efficient based on the business telephone endpoint you choose. Once you've decided, HRCT can install and manage your telephone, computer, and IT systems.