Aland Coons
Service Manager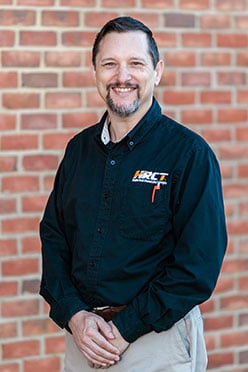 Aland has over 30 years in the industry.  
He has always had a love of computers since first introduced to the TRS-80 Color Computer (CoCo 1) in the early 1980's. He has a passion to help people get full use out of the computing resources they own, and when required, find what they need to implement technology as a solution.
Aland loves every aspect of the computer business. He enjoys the trust relationship built with integrity and service. He focuses on more than being a nerd or geek and helps people become power users. Aland has worked directly for small government, contracted for large government (military) and worked for and supported non-profit organizations and many small businesses.
Aland is HRCT's Service Manager, keeping our staff organized, proactive and efficient while supporting diverse network configurations including traditional wired, wireless technologies and VPN. Support Microsoft 365, server, workstations and mobile devices, data restoration services, prompt incident resolution and intrusion detection and mitigation.
Certifications: CompTIA A+, Security+, Network+, Microsoft Certified Professional (MCP)
Aland is a native of Oregon. He moved to Virginia in 2000 because he liked the people and sunshine here. Aland resides in Portsmouth with his wife and four children. He loves reading, watching movies and shopping and plays video games for stress relief.
Fun Fact: One of Aland's favorite quotes: From the animated movie Robots "Find a need, fill a need." His creative outlet is cooking.