Posted by Eric O. Schueler, Senior V.P. of Information Technology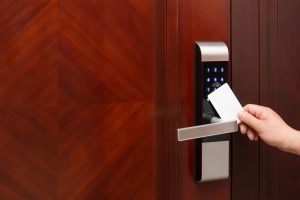 How many times do you have to make keys for new employees? How many times have you needed to reissue keys or change the locks? Have you ever worried that an employee may have forgotten to lock up? Have you ever had to drive to your business to let someone in?
If you answered "many" or "yes" to these questions, perhaps it's time to consider switching from traditional keyed access to higher-tech security door access.
Door access, or access control, makes your business more secure and gives you peace of mind. Through the use of cards, key fobs and PINs, access to a door can be granted to employees and customized to fit your business's needs.
Here are 5 advantages of door access control:
Security door access creates a more secure building by getting rid of traditional keys while saving your company time and money. Traditional keys can be lost, stolen, or copied and it's expensive to frequently change locks. With security door access, you can grant access with cards, key fobs or PINs, which makes it easy to change access if a card or key fob is lost or stolen. You don't have to worry about lost keys, and when someone leaves the company, all you'll have to do is press a few buttons to discontinue access. You won't have to change the locks which will save your company money over time.
Restrict sections of a building. An example of restricting access might be giving a janitor access to clean your building between 6-8 p.m. each night. This is much better than giving out keys that have unrestricted access. Companies that must adhere to strict confidentiality laws, including but not limited to: health care, financial institutions and insurance companies, benefit from security door access to keep confidential records safe.
Create an audit trail. When employees are assigned their own access cards, every time an employee opens, or attempts to open a door, the entry is recorded. A daily log of entries is automatically created.
Security door access systems allow remote access control. No more running to the business to open a door for someone or to give an employee access to an area they need with your permission. Just press a few buttons to grant them new or temporary access. Do you need to lockdown the business quickly? You can do it remotely. Do you need to immediately restrict access to someone? You can do it immediately.
Overall peace of mind. No more worries about locking up! The doors will automatically lock so you never have to worry if your building is secure. In addition, you can set up event notification alerts so that you receive a text or email when there is an invalid credential attempt, or a door is left propped open.
Is it time you made your business more secure?
HRCT wants to help you keep your business safe. HRCT provides security door access with PINs, cards or key fobs. To learn more about door access control click here  or call 757-399-3350.
---
Posted by Eric O. Schueler, A+, MCP, MCSE, MCTS, CSSA, ACSP – Senior V.P. of Information Technology at HRCT. Eric has been in the business of providing IT and consulting for small and medium business for more than 15 years.
Hampton Roads Communication Technologies (HRCT) provides quality business telecommunications solutions, business security systems, computer and IT support and managed service agreements to companies and organizations throughout the United States, Mid-Atlantic and the Hampton Roads Virginia cities of Virginia Beach, Chesapeake, Norfolk, Portsmouth, Suffolk, Newport News and Hampton, north into Williamsburg and south into the Outer Banks of North Carolina. HRCT keeps your company connected with 24/7 emergency service.
Call today. (757) 399-3350