What Is Cloud Computing?
Cloud computing is accessing programs and data storage securely through the internet. While many people associate cloud computing with data storage, cloud computing offers much more. It can take the place of on-site servers, programs, applications, and licensing. Various companies provide different menus of cloud services from storage to online-based software.
What Are The Benefits Of Cloud Computing?
Cloud computing offers the ability to log-in and access data, files, and applications anywhere you go. You can access important business information on a variety of devices whether you are at home, at work, or traveling. As long as you have an internet connection, your programs and files are at your fingertips.
Cloud computing removes the bulk. You no longer need to store large equipment like servers at your business. It also saves the need and money to increase your local server capacity.
When you choose application-based cloud computing, it removes the constant need to add new licenses to software when new employees are hired, or you upgrade old versions of software.
With cloud computing, you can enjoy the flexibility of only paying for what you need when you need it.  Increase and decrease your capacity as your business needs grow or shrink.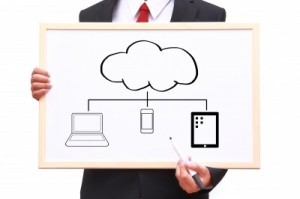 Security and Cloud Computing
Cloud computing provides you the ability to customize access to certain files and programs with separate secure log-ins for your employees. HRCT understands the importance of safeguarding your business data. We provide high-level encryption, and we implement security measures to keep your data secure in the cloud.
Offsite Data Storage
Backing up your important business files and programs to the cloud is essential in ensuring the day-to-day function of your business. It protects against a server crash, a fire, theft, or an act of nature, such as hurricane or flood. These can wreak havoc on your business. With cloud computing, your files would be safe in the cloud. Anytime something is stored in the cloud, it is duplicated so that it can be accessed even if a server breaks down. This approach ensures that your data storage is protected and always available.
HRCT offers cloud services for your business and can help your business embrace the benefits of cloud computing. For more information on HRCT's cloud-based services, complete IT Support services and cloud-based telephone systems, click on the links below.