HRCT designed, installed, and deployed a complete business technology solution for this government contractor's new facility.
When you're opening a new facility, dealing with IT can be a nightmare.
The many parts involved that have to be carefully selected, sourced, purchased, installed, configured, and launched are a lot to handle. One wrong move and your team won't be able to get to work on time in the new workspace.
Let our experts help by dealing with the technology-related complexity so you can immediately get to work on day one. That's precisely why this government contracting client chose to work with HRCT.
Download our technology spotlight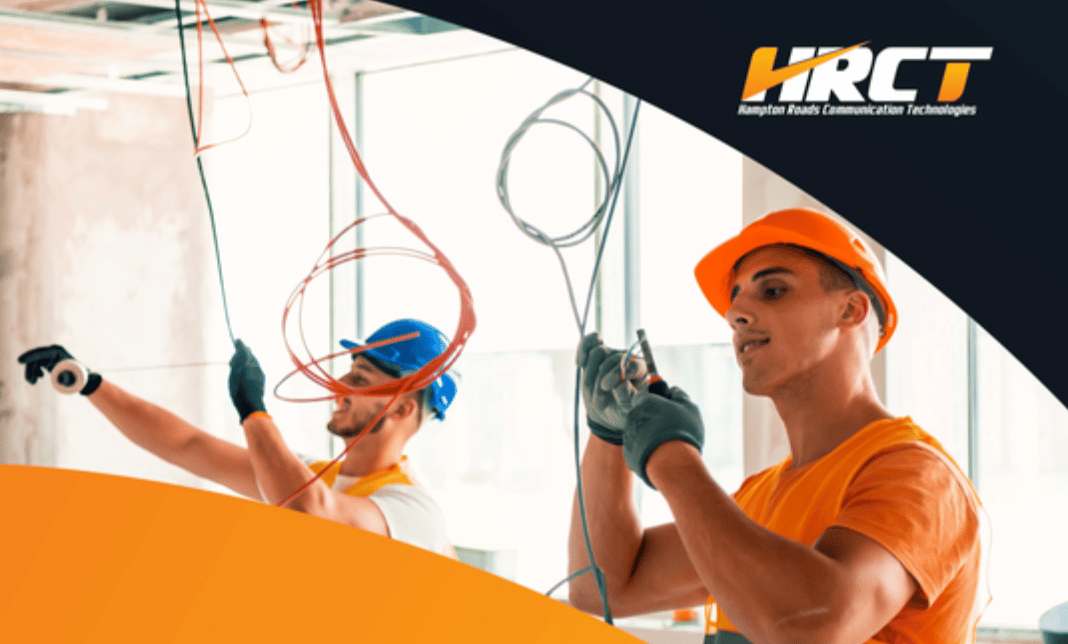 What Did This Client Need?
This client was opening a new 650,000-square-foot facility in Virginia and was in need of numerous technologies and an IT partner to handle the technical aspects of the project from start to finish.
HRCT Offers Fully Registered Expertise
Not just any IT company can sell and install security solutions in Virginia. In order to do so, they must be registered with the Department of Criminal Justice Services (DCJS).
Before considering any of our other qualities as a project management team, the client first verified that we were properly registered with DCJS. This gave them confidence we were both legally allowed to, and fully capable of delivering the security solutions they would need for their new facility.
Partnering With HRCT Vastly Simplified This Project
The key factor in why this government contractor chose HRCT for the project is that we are able to handle each and every technical aspect on our own. The last thing this client wanted was to have to work with a different vendor for their phones, their computers, their video cameras, etc.
Having multiple vendors for phone systems, audio/video builds, teleconferencing, and networking can add an unnecessary level of confusion (and costs) to a given project. Lack of communication and inconsistent execution of standards often plague projects with too many partners involved.
Consolidating this work under a single umbrella with an IT services provider helps improve communication as well as the speed of execution of the project. More efficiency, a cohesive, well-executed plan, and the elimination of unexpected or uncoordinated details all save time and money for new development projects.
When you consolidate your building strategy, planning, and implementation with a single IT services partner, you're often able to recognize economies throughout the process. Developers and project owners can expect to have their project flow more smoothly and efficiently, reducing unexpected surprises and expenses in the process.
By partnering with HRCT, this client was able to simplify what would already be a long and complicated project. They were able to enjoy a single point of contact for all things IT.
HRCT Seamlessly Managed This New Facility's Cabling
It doesn't matter how flashy, new or expensive a new facility's desktop computers, enterprise-class routers, or feature-rich telephones are, the network will not operate at its optimal performance if the cabling is not installed and managed properly.
That's why this client had HRCT oversee the installation and management of their cabling from end to end. After all, a network is only as strong as the weakest link.
If the data cabling is managed correctly and up to code, it will last the client for 10 years or more. It can be one of the few "set it and forget it" parts of their business. If done improperly, it can be a constant nuisance that is expensive, disruptive, and time-consuming to fix.
If data cabling is only installed for what the client needs today, it will not be able to handle the future upgrades of their data hardware which will prevent the hardware from operating at the advertised speeds. That's why, when we planned and executed their cabling over the course of this project, we ensured it would be prepared to handle their needs for years to come.
In the course of this project, we used two key types of cabling:
CAT6 Cabling
CAT6 is the most commonly used form of network cable. It was designed to support Gbps Ethernet that can transmit one gigabyte per second for performance, reliability, and security. This is most commonly used in suites that have a 5-year lease.
Fiber
Fiber is generally used to link two cabling rooms together or to extend high-speed data further than 100m. It is reliable, high speed, and has inherent redundancy.
If a project has more than two data cabling rooms, multi-buildings in a campus environment, or cabling needs that exceed 100 meters, it will typically require fiber.
In the end, this facility required more than 500 cables, which our team carefully laid, secured, installed, and tested to ensure the client's network would be ready for them from day one.
What Solutions Did We Deploy For This Client?
AVAYA Phone Systems
AVAYA communication and phone systems are suitable for all types and sizes of business, from the small office to large enterprises like this government contracting client. AVAYA systems integrate seamlessly into their communications network and can handle advanced capabilities such as VoIP, integrated messaging, and IP telephony.
As a VoIP-based communications solution, AVAYA lets this client make calls through the cloud instead of a traditional phone line, granting them greater connectivity, more features, and reduced costs:
Cost-Effective
VoIP phones slash prices compared to traditional phone systems, allowing the client to reallocate funds to other areas of their business that need attention.
Accessibility
Their connectivity and means of collaboration improve, keeping them connected and in the loop even when they are on the go.
Feature-Rich
A wide range of innovative features makes their communications easier and more effective, helping to increase productivity and improve their workflow.
Scalability
VoIP is fully scalable, allowing for changes to be made quickly and seamlessly, without causing any kind of disruption or downtime, and without the usual hefty fees associated with installations and changes to their service agreement
Simple Budgeting
They can access services, hardware, upgrades, and support for a low, predictable monthly fee.
Comprehensive Support
They can utilize 24/7 technical support and ongoing maintenance.
Continuity
VoIP offers the ability to carry on as usual in the event of a power outage, or even when their office itself is out of commission due to a disaster situation such as a fire or flood.
When you partner with HRCT to implement and maintain an AVAYA telephony system as this client did, you get a simple, scalable solution that is future-ready. When you combine the communications technology expertise of the HRCT team with the hardware and software provided by AVAYA, you turn your old telephone system into a modern communications platform that will support the most demanding of workflows.
Valcom Paging Solutions
This robust paging system ensures that the client's staff can easily notify and page onsite personnel at a moment's notice. As an industry leader, Valcom offers a robust suite of both analog and digital paging solutions, allowing us to select the perfect option for this government contractor's needs.
AXIS Video Surveillance
When properly deployed and managed, video surveillance technology creates a robust defense for a company's physical premises.
HRCT offers an extensive range of camera types to fit any type of business or environment. No matter the layout or size of the client's location, we can equip them with a comprehensive surveillance system.
For this specific project, we deployed a comprehensive AXIS video surveillance system. In addition to providing high-quality video feeds of critical areas in their new facility, the camera systems also offered a range of other benefits:
Track Inventory Changes
No matter what they store on-site, a video surveillance system will help the client keep an eye on it remotely.
With the right configuration and deployment, they can use their surveillance system as a form of inventory management, double-checking and confirming what their staff reports on an ongoing basis.
Ongoing Organizational Record
By watching their business around the clock, they will also gain a unique perspective into the hour-by-hour, day-to-day, and month-to-month operation of their business with the live recorded footage.
Promote A Positive Workplace Environment
Video surveillance will also help to mitigate instances of harassment and poor customer service because everyone on their premises knows they are being recorded.
PAXON Door Access Control
Are you sure that only authorized people have access to your business premises?
It's a legitimate concern. If you're relying on a set of locks and keys to keep your inventory and assets secure, then you're leaving a lot at risk.
That's why so many businesses have started securing their buildings and offices with advanced access control technologies: unique credentials, advanced readers, alarm systems and reporting software. Facility access controls are the best way to prevent unauthorized access to your office.
This was a key aspect of the project we managed for this client's new facility. We installed a reliable door access control system by PAXON to help them ensure only the right people would have access to the right areas.
Instead of each of this client's employees needing a key, door access control systems use unique credentials to unlock the door. Door access control allows entry into designated doors with PINs, cards or key fobs, and can be integrated with their business' security surveillance system.
With an access control system, they'll also know who enters their office, and when they opened the door. They'll receive reports if an unauthorized individual tries to enter. They can also prevent access to private rooms or areas inside their office that only certain employees should enter.
PAXON's wide range of options allowed this client to choose from keypad, card or key fob entry options, and from electronic, mechanical, and smart locks. With options to program locks with staff members' smartphones, create and send codes, issue smart cards, and more, the client can customize access control with the latest in security technology.
We installed a range of features in these access control systems:
Perimeter and Interior
Door and Gate Access
Emergency Call Box
Restricted Key System
Visitor Management
Video Intercoms
Networked Door Locks
Panic Buttons
HRCT Seamlessly Managed This Project From End To End
In total, this project took four months to complete. HRCT worked diligently throughout that period to carefully implement the plans we developed with the client.
We built and deployed a vast and robust network of cabling, installed a range of security and facility management solutions, and did so on time and under budget. Over the course of the project, HRCT engineered and worked directly with the client and their general contractor with design, floor plans, permits, and all necessary aspects of the build.
Launch Your Business' IT Foundation—Consequence-Free
We follow a carefully-developed proactive IT strategy to help businesses hit the ground running at their newest locations.
We establish a comprehensive view of your IT solutions, and then carefully plan the build and launch of your environment to minimize downtime, mitigate the chance of data loss and configuration errors, and ensure your staff can get to work on the first day in the new location.
The bottom line is that you won't have to even think about your IT—we'll take care of it for you.
Want To Simplify The Launch Of Your New IT Environment?
Are you planning to open a new location soon?
HRCT has extensive experience with Project Management, which is why our existing clients always rely on us for all their project needs.
In addition to deploying your new environment with minimal downtime, the HRCT team will also provide ongoing maintenance and management. We will ensure your office keeps running smoothly for years to come.
Contact the HRCT team to offload the stress of starting a new IT environment.