Posted by Eric O. Schueler, Senior V.P. of Information Technology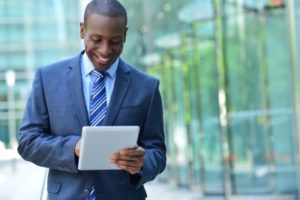 As businesses become more mobile, there's a growing need for employees to access important programs and files from afar. Do your current IT and phone systems support mobility?
Supporting Your Mobile Sales Force
Today's employees enjoy the ability to work from anywhere, and more and more companies are seeing the benefits of a mobile sales force. After all, your sales team should be out of the office and meeting with prospective and current clients, while still being able to communicate with the company's computer programs and systems.
Companies that want to embrace this BYOD (Bring Your Own Device) mindsight should be willing to support their mobile sales force. By 2020, nearly half of America's workforce will be millennials, according to the U.S. Bureau of Labor Statistics. The millennials have always had the Internet. They don't know a world without the internet, and they typically use mobile devices instead of a PC.
How does a company enable this mobile sales force and use cloud-based applications?
Changing your business model from a traditional setup of files on a secure onsite server to a cloud-based mobile sales force is the answer for your business. If you're nervous about the cloud and security, that is something that is addressed when setting up your system.
Studies have shown that up to 62% of employees said accessing company information easily and remotely affected job satisfaction, and half said they are more productive when they can do that while mobile. It's important for businesses to understand the process of this change and to reflect that change in their policies and procedures.
Changes that IT departments need to make:
Have a suitable VPN setup and licensing strategy
Ensure your infrastructure can support a mobile sales force
Make sure your security protocols protect not only your employees and equipment but your company's sensitive information
Be prepared to monitor, protect and support a variety of devices
Have plans in place in case an employee's mobile device is lost or stolen to protect your company's value data
Determine what applications would be most beneficial to your company and the mobile sales force
Make sure cloud computing meets the needs of the company and employees
IT must realize that the mobile users may be under a time constraint in the field and must be prepared to offer a higher level of support
Changes to company policy and processes:
Mobile sales force needs to understand their accountability by having a policy that clearly communicates expectations, guidelines for usage and protection of company assets.
Some business processes can be updated to take advantage of the mobility of not just employees but customers as well.
Address the issue of internet availability and speed at the homes of mobile users.
Request and consider feedback from the mobile sales force on what is working and not working.
Allow mobile employees to use conference rooms or offices in the company if they need to meet with clients or with colleagues on projects.
Supervisors or managers need to understand that face-to-face meetings with mobile employees may not be possible so they need to be sure to engage with their employees often, be consistent and flexible.
Most policies cover devices that the company owns but should take into account the personal devices of their employees as well.
Going mobile is stated to increase employee productivity by 20% and allows a flexibility to balance personal life with business life. The line between home and work has been blurred with many employees checking email at home in the evening or on weekends, and companies need to encourage that productivity while still being security-conscious. Rising from #12 three years ago to #2 on technology priorities for CIOs, mobility has become a hot issue for companies today. The word work is changing from a physical location to a verb with the advent of a more mobile sales force.
Supporting your mobile sales force can be a formidable task, but there is help out there. HRCT is a technology company that helps businesses of all sizes with their IT and computer needs.
Call today and see how HRCT can help your company become mobile! (757) 399-3350
* TheEMPLOYEEapp's second annual study
Posted by Eric O. Schueler, A+, MCP, MCSE, MCTS, CSSA, ACSP – Senior V.P. of Information Technology at HRCT. Eric has been in the business of providing IT and consulting for small and medium business for more than 15 years.
Hampton Roads Communication Technologies (HRCT) provides quality business telecommunications solutions, like Microsoft Lync and Office 365, computer and IT support and managed service agreements to companies and organizations throughout the United States, Mid-Atlantic and the Hampton Roads Virginia cities of Virginia Beach, Chesapeake, Norfolk, Portsmouth, Suffolk, Newport News and Hampton, north into Williamsburg and south into the Outer Banks of North Carolina. HRCT keeps your company connected with 24/7 emergency service.
Call today. (757) 399-3350
Sources: networkcomputing.com, infotech.com, zdnet.com, forbes.com, theemployeeapp.com
Images courtesy of FreeDigitalPhotos.com by stockimages (businessman with tablet), ddpavumba (cloud computing), punsayaporn (laptop)