Jeff Beecher
Senior Network Engineer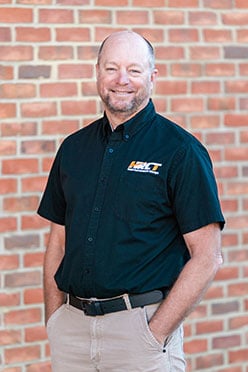 A+, Network+ and Security+ Certifications and Advanced Dell SonicWALL certification
As HRCT's Senior Network Engineer, Jeff provides the best IT and computer support, repair and managed services. 1977 was the first year Jeff discovered computers, and with the urging (to put it mildly) of his father, began his personal journey in the world of computing.
Born and raised in Bolton, Connecticut, Jeff joined the US Navy in 1982 as a Data Processing Technician.  As the computing world evolved, so did the rate – "Data Processing Tech" migrated to "Radioman", which finally migrated to its current name "Information Systems Tech" or IT.  In August 2006, Jeff retired an ITC, or Information Systems Technician Chief.
Upon retiring, Jeff worked with a small IT company located in the Hampton Roads area, and after 6 years, Jeff made the decision to move on. In December of 2012, Jeff joined the HRCT team.  After a 23 year military career and all that followed, Jeff is thrilled to say he's found a permanent home.
Jeff's A+, Network+ and Security+ certifications have simply laid the groundwork for his growth.  HRCT has invested in that growth, and Jeff has already received extensive training and an advanced Dell SonicWALL certification. HRCT and our clients are lucky to have Jeff on the team.
Fun Fact: My first computer was a Radio Shack Tandy 1000, running at "turbo" speeds of 7.2 MHz.  Yes, MHz with an "M."
Another fun fact – Eric (my boss) rightly expects his technicians to stay on top of the latest IT trends and technologies, and to hammer that point home I've got every Maximum PC magazine printed over the past couple of years – coming directly from Eric's hands to mine, every month like clockwork.