Data Backup and Data Recovery Services
Organizations that are not prepared against data loss can be faced with tragic circumstances when they experience an IT system failure or when natural disaster strikes.
Whether data loss occurs as the result of hardware malfunctioning, human error, power outages, or viruses, it can put the future of the business at great risk.
Does your business have a comprehensive plan for data backup and data recovery?
The developers of leading data and disaster recovery solutions, Storagecraft, has revealed that data loss comes from many different avenues. 31% of all companies experiencing lost data trace their problems to hardware issues while up to 29% are seeking restoration of their important files and documents as a result of human error. For another 29% of businesses, malicious viruses such as malware or ransomware are to blame.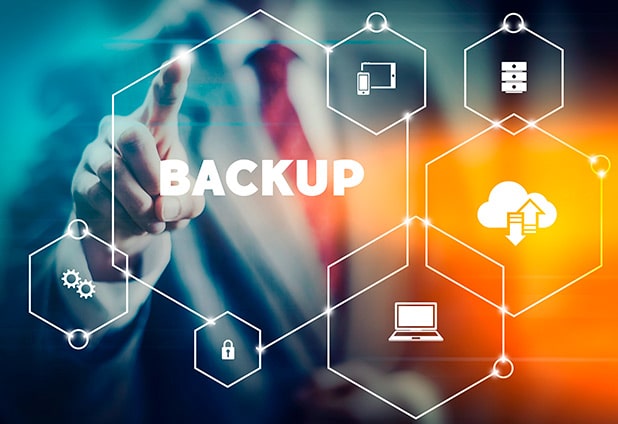 A business device can also act as a port of entry, putting their data at risk. Though laptops provide the greatest vulnerability at 39%, other risk-prone technology resources include servers and desktops. Today's businesses need the security that comes from a well-thought-out and properly implemented strategy for data backup and disaster recovery.
Four Things That Pose the Greatest Risk To A Business' Data

Viruses such as malware and ransomware


Poor security measures for BYOD

Unsafe social media platforms
How Can I Protect My Business Against Data Loss?
Be proactive and make sure your business data is secure and professionally backed up offsite to protect your company from disasters such as hurricanes, floods, fire, viruses, ransomware, etc.
Last year's hurricane season brought the Hampton Roads region an estimated 500 million dollars in damage. According to FEMA, almost forty percent of small businesses do not reopen following a disaster. A few inches of water can cost tens of thousands of dollars, and you can lose important business information when that water invades a server or computer. Other man-made disasters can affect your business's data such as viruses and ransomware. You need your business's data backed-up offsite to ensure its safety.
What Are The Steps I Need To Take To Keep My Business Data Safe During Hurricane Season?
Hurricane season is June 1 – November 30. Is your business prepared?
Your business should be preparing for hurricane season by:
Having Safety Equipment – Make sure you have safety equipment such as first aid kits and flashlights, review evacuation plans, crisis communication plans, and more. Click here for more information on writing and managing plans and training employees for crisis situations.
Protecting important information and documents – Develop an IT disaster recovery plan so your business can recover important files, programs, and documents that are essential to your business. Back up your computer files, programs, and documents to a safe, offsite location.
Physically protecting your property – A few ways to protect your property can include: anchor bookshelves, relocate valuables, evaluate your roof, sandbag any areas prone to flooding, install shutters to protect windows.
Creating an Evacuation Plan – Develop a list of things that need to be done in your business to prevent damage, like using sandbags and whether you should turn off power. Know how you will pack materials and equipment. Create a plan for employees to keep in touch when they evacuate.
Important Business Information and Documents