by Eric Schueler, Sr. VP of Information Technology


Ubiquiti Wi-Fi at FedExForum Provides Excellent Fan Experience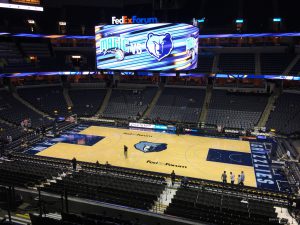 Arenas are famous for having poor cellular and WiFi signals, leaving customers frustrated. They network is accessible, but the connection fails. Is it their device or is the signal? This is where Ubiquiti comes into play.
Click here to see how Ubiquiti solved the WiFi problems while facing challenges with:
Open Space
Human Bodies
Limitations in AP Placement
High Peak Traffic
Difficulties with Surveys
The FedExForum is an 18,000 seat arena in downtown Memphis, Tennessee. It is the home of the Memphis Grizzlies NBA basketball team and venue for concerts and other sporting events.
For more information about Ubiquiti solutions, call Eric Schueler, Sr. VP of Information Technology. (757) 399-3350
—————————————————————
Posted by Eric O. Schueler, A+, MCP, MCSE, MCTS, CSSA, ACSP – Senior V.P. of Information Technology at HRCT. Eric has been in the business of providing IT and consulting for small and medium business for more than 15 years.
Hampton Roads Communication Technologies (HRCT) provides quality business telecommunications solutions, business security systems, computer and IT support, data protection and security and managed service agreements to companies and organizations throughout the United States, Mid-Atlantic and the Hampton Roads Virginia cities of Virginia Beach, Chesapeake, Norfolk, Portsmouth, Suffolk, Newport News and Hampton, north into Williamsburg and south into the Outer Banks of North Carolina. HRCT keeps your company connected with 24/7 emergency service.
Call today. (757) 399-3350