It can be a little hard to heap all these responsibilities on your existing staff. It can be even harder to disband your in-house IT department for outsourced help. So, how do you make the best of your technology investment while staying cost-effective?
We have an easy answer to your problems. HRCT's technical support team works with your IT staff, not replacing them. Think of us as an extension of your IT department, augmenting your business, and helping your existing team do their jobs better.
This kind of partnership is what we call co-managed IT services (COMITS).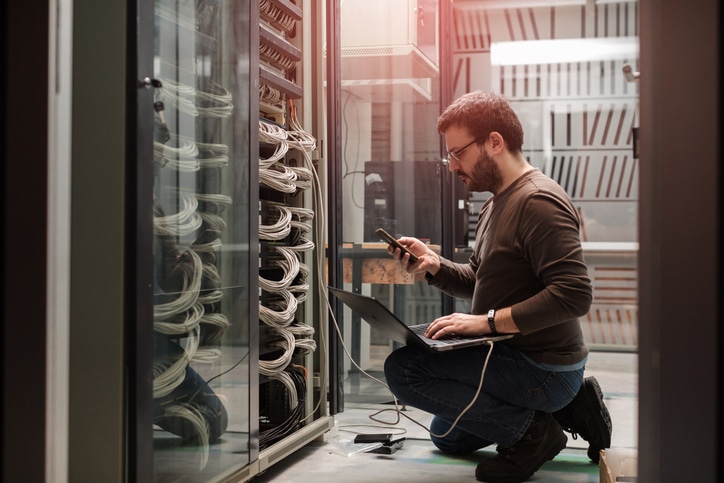 Understanding Co-Managed IT Services
You probably have an IT technician or department that has been with your organization since the early days when you were starting out. Your business has seen some considerable development, and now you feel that your IT needs have outgrown their expertise. You could be considering sourcing full IT support, but you just feel too attached to this team that has become an integral part of your business. Or maybe you are operating on a low IT budget and cannot afford full outsource IT management.
The solution is Co-managed IT. This is an arrangement where you outsource IT support, either short-term or long-term, to supplement your existing in-house team. In doing so, you don't have to add more permanent internal IT specialists. Perhaps the most significant perk is that it enables you to enjoy both the advantages of having an in-house team and those of outsourcing IT support at the same time.
Outsourced vs. In-House: Getting The Best Of Both Worlds
Your in-house IT staff understands your business very well and identifies with its goals. They have been part of the process long enough to know your networks in and out. But, you can't help feeling that if they could have had a broader skillset, things would have been better.
Outsourcing IT support guarantees you a vast pool of deep benches of technicians, and the best technologies that you couldn't have otherwise afforded. The experts are specialized and have broad experience in network management. However, the worry that they may not blend with your business frameworks, as good as your existing team does, cannot escape your mind. At times you may just be requiring their services for a short period and are not ready to enter into a binding pact with an outsourced team.
With co-management, you get the best of both worlds. You have your in-house team that's well versed with your business operations backed up by a competent team of outsourced experts.
The Cost Factor
In most organizations, IT departments are the most expensive to run. And reasonably so, you have to invest in the latest technologies and continuously update the software and upgrade your hardware as IT keeps evolving. Any CTO will tell you that these processes are time-consuming and very expensive.
Now that your business is growing, you need to spend more bucks on hiring additional IT technicians. According to Glassdoor, an IT leader is paid $ 122, 099, and a specialist $ 51, 838 per year. Being full-time employees, they are entitled to other benefits like insurance covers and holiday allowances. Looking at this critically, it's like you are operating the business to fund your IT department.
Is There a Way in Which You Can Enjoy Superior Services While Saving on Cost?
Yes, through co-management IT services. Once you have paid your service bill, the responsibility of acquiring the latest technology automatically shifts to the service provider. The IT company also has to pay salaries and benefits to their technicians.
What Are The Benefits Of Using Co-Managed IT Services?
Create More Productive Time For Your Business
As the business environment increasingly becomes more competitive, it's the amount of productive time you create that gives your firm a competitive edge. In fact, most businesses are now rolling out round-the-clock production programs. Network downtime, protracted patches and repair, slow browsing speeds, and poor-quality calls only serve to derail this progress.
You can outsource IT co-management to handle more time-consuming recurrent functionalities, creating more time for your staff to concentrate on more business-centered operations. The outsource team can also manage your Help Desk at night when your staff is not in the office, enabling 24/7 customer service.
Access Top-Tier Technology And Specialized Technicians
Any reputable service provider is keen to have the best technologies and experienced experts. The good news is that with co-management, you access all these without having to buy, maintain, hire, or pay them. This guarantees enhanced cybersecurity and improved efficiency.
Draft Your Budgets With Assurance
How many times have you had to spend more than you had budgeted for IT due to unprecedented incidences? Now that you are not confident in your staff's capacity to guarantee security, do you know that the average cost of mitigating a cyberattack is $ 146.6 million? With an in-house team, you never know when next you will be required to adjust your budgets due to an emergency.
Co-managed IT services come with relatively stable service bills, enabling you to make predictable budgets.
Who Needs Co-managed IT?
If you have a small or medium-sized business that is scaling and needs extra hands to back up your in-house team, co-management is the way to go. You could be a big enterprise that experiences a sporadic increase in traffic, and only need a little backup for a limited time.
Generally, anybody who wants to save on cost and improve network efficiency can go for Co-managed IT.
Get The Best Co-Managed IT Services From HRCT
Our team will help complete your technology experience, consulting with you and your staff on new technologies to ensure cybersecurity and efficiency. We provide our expertise on technologies like the cloud, helping you find the right cloud services to fit your unique IT needs.
HRCT handles proactive maintenance and network designs, minimizing your daily support requirements and freeing your IT staff to concentrate on more important work.
Click here to get started or call us at (757) 399-3350.